I am by no means a Buckeyes fan, however, some people have written them off as a mediocre team buffeted by a weak conference. This is not the case. The Buckeyes are still one of the most talented teams in the nation. Ohio State has sent 11 players to the NFL on the first day of the draft the last three years. That's as many as LSU (9) and Georgia (2) combined. Talent is not the issue. The issue is positional talent and coaching doctrine.
In terms of positional talent, if you take a look at the three premier losses in the last three years, against USC, LSU, and Florida, you'll notice several trends. Against USC, they gave up 174 rushing yards on 30 carries, 5 sacks, and 2 INTs. Against LSU, they gave up 177 yards rushing on 45 carries, 5 sacks, and 2 INTs. Against Florida they gave up 156 rushing yards on 43 carries,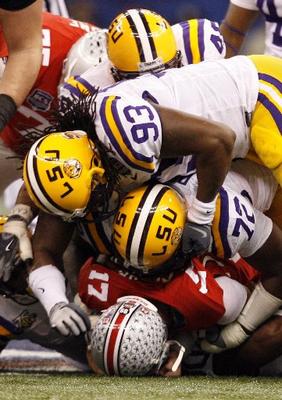 5 sacks, and 1 INT. This tells us 2 things. They cannot protect their QB, and they cannot stop the run. This creates two problems. Inability to stop the run allows the opponent to set the tempo of the game, it opens up the play action pass. Being unable to protect the quarterback makes your offense one dimensional. Ohio State is already pretty one dimensional as it stands. This adds up to an offense that can't score, and a defense that can't get off the field. That's a recipe for disaster.
You can get a feel for the level of athletes that a program has by looking at the level of players it puts into the NFL. To see if a program can compete on a high level in college, you need to look at how many high draft picks it puts out. From 2000-2008, Ohio State put 17 players into the NFL via the top 2 rounds of the draft. That throws the notion that they simply "lack speed" out the window. Ohio State has sent up 4 WRs, 5 DBs, 2 LBs, 2 Cs, 2 DEs, 1 DT, and 1 K.
Noticeably absent are QB, RB, and OL. The lack of high level O-line talent makes the Ohio State program systemically vulnerable to elite pass rushers. Florida had Jarvis Moss and Derrick Harvey, both NFL first round picks. LSU had Glenn Dorsey and Tyson Jackson. USC had Everson Griffen and Kyle Moore. The lack of elite caliber QBs exacerbate this problem, as a mediocre QB tends to hold on to the ball longer.
Figuring out the problems with the run defense is a little more deceptive. Ohio State has had a proud tradition of linebackers, and that's been held up by the current team with Marcus Freeman and James Laurenitis. The defensive ends are also fairly recent, with Vernon Gholston on the teams that lost to Florida and LSU. The safeties aren't world beaters, but they're solid. the weakness has come at defensive tackle. The one defensive tackle drafted early for Ohio State was Ryan Pickett in 2001. Since then, they haven't had anyone special.
Solving the defensive problem will require Ohio State to get out of the mold of the c
heap interchangeable defensive tackle. Most of their defensive linemen are in the 280-290 lb range. You can get away with it if you have some LBs who specialize against the run, a Jeremiah Trotter or David Harris style thumper. However, Ohio State has done a good job of recruiting the high end sideline to sideline LBs. They've had good success with those style of linebackers, and I see no reason to mess with those. It would be much easier to try and put an emphasis on bringing in some 300-315 lb DTs who can plug up gaps and stuff the run. The loss of pass rush would be negligible, due to the minimal amount of sacks that actually come from tackles in Ohio State's system.
On offense, the inability to protect the QB really stems from the type of tackles that Ohio State has started. Players like Kirk Barton and Alex Boone, while possessing prototypical size, tend to lack athleticism and have shorter arms than their height would indicate. This causes real problems with speed rushers. The problem can really only be fixed by picking up better offensive line prospects.
Both these problems could be worked out by adopting a more aggressive coaching style, but one thing Jim Tressel is known for is his inflexibility. He runs the exact same game plan on a short week against Ohio as he does on a six week break before playing LSU. Chipping with TEs and double teaming with OGs would help dealing with speedy DEs. High risk/reward run blitz packages would help to deal with the weak run defense. But that's not Tresselball. In the end, you end up with a high percentage winning coach, yet a very predictable team. They win the games you think they're going to win, and lose the games you think they're going to lose. Contrast this to Les Miles, who's the opposite end of the spectrum.
Because of these problems, Ohio State will be a second tier team for years to come until such time as Tressel changes his recruiting tactics. I don't expect him to change his coaching style, because it works for him, but changing the recruiting pattern is easily doable. Jim Tressel has built a program that is designed to beat the Big 10, and Michigan in particular, but will struggle against teams with different philosophies. It's really a measure of the priorities at Ohio State.